Leaf Cleanup and Leaf Removal Services For Montgomery County and NW DC, including, but not limited to, Bethesda, Gaithersburg, Germantown, Olney, Potomac, Rockville, Silver Spring, MD, and the Surrounding Areas
Family & Employee Owned Since 1981
If you're looking for leaf clean up services, let Moyers Lawn Service & Landscaping help. Every year, you can count on the trees on your property to shed their leaves like an Alaskan Husky. If left unmanaged, leaves can suffocate your lawn and prevent photosynthesis. This can kill your grass and leave your lawn looking far less green. Leaf removal or clean up is very important in maintaining a lush, green lawn.
Contact Moyers for your annual fall clean up today!
To get started today, call us at 301-251-9822 or Request a Free Estimate from our website.
Let Moyers give your yard a tune up
Timing is everything when your goal is a beautiful lawn and landscape. Moyers has a knowledgeable staff that is able to bring out the best in your yard.
Our Yard Maintenance services include:
Cleaning of lawn areas as necessary
Cleaning of bed areas as necessary
Weeding of beds as necessary
Re-edge beds as necessary
Re-edge walks, drives, and curb as necessary
Pruning of shrubs and small trees as necessary
Mulching of beds as necessary
Removal of debris
Since 1981, we have provided comprehensive yard maintenance and lawn care services in Bethesda, Rockville, Germantown, Silver Spring, Potomac, Gaithersburg, and other locations in and around Montgomery County, MD, and NW DC.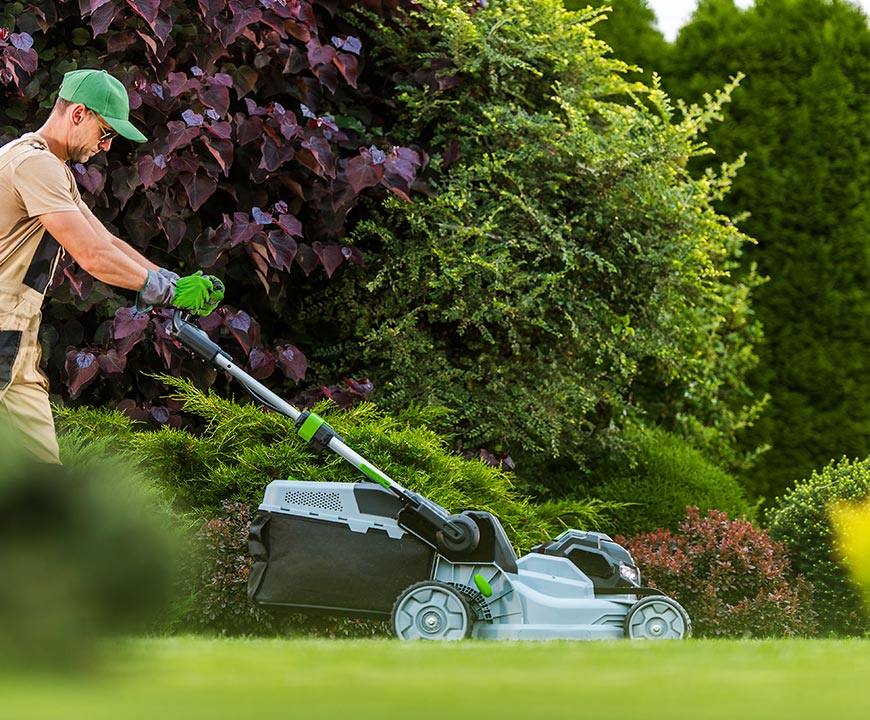 Make Us Your Lawn Service Company
At Moyers Lawn Service & Landscaping, we take lawn service beyond standard mowing, fertilization, and weed control. We use expert techniques to achieve a perfectly even, professional-looking lawn. We tackle advanced projects like:
Seeding to establish or patch up existing lawns
Dethatching to remove excess dead plant matter
Aeration, slicing, and liming to improve soil
Yard Maintenance Testimonials
Crew finished the work today. Clearly a week of rain challenges. Excellent work by the team. The yard looks spectacular!!! Many thanks.

Wow! You and your team did an incredible job on our yard. I was absolutely blown away when I came home tonight and keep raving about it to my husband. Thank you for all of the hard work and quick execution!

I am so happy with Moyers. They did an amazing job landscaping my front yard and installing a walk way. It looks phenomenal. I am also getting lawn maintenance. After one month, I can already see a difference. The lawn looks so healthy.

Everyone I dealt with at the company was very professional and helpful. I would highly recommend Moyers and would definitely use Moyers again

Moyer's did a great job mulching and cleaning up our yard! It looks wonderful. The whole process from quote to payment was easy and very user friendly. Communication was prompt. Highly recommend!

I can't believe that I called for an estimate and it was presented to me the next day. After hiring them, my yard work was completed within a week of acceptance. Moyers is awesome. I would definitely recommend them to my friends and family.

In less than two hours, Moyer's crew made my devastated backyard look like new again. From cleanup, to planting, to mulching and edging the bed.

I've been relying on Moyers all summer after hurting my back. Their cheerful teams have pruned, edged, planted, mowed. You name it. They respond quickly to email and arrive when promised. Couldn't be happier!